This page contains descriptions and photographs of the Team Polenta rides ("giri").  It also describes future Team Polenta rides, and contains the dates of major Italian bike races and gran fondos. The first Team Polenta ride was in May 2009.  We rode the Gran Fondo Felice Gimondi (Colle Gallo and Selvino) near Bergamo, and then rode parts of five stages of the Giro d'Italia, including Sestriere, Passo del Turchino, and the time trial ending in the Cinque Terre.  We even got to ride "with" Lance and Levi as they were warming up for the time trial.
The second Team Polenta ride was in May 2010.  According to the wives of the members of Team Polenta, the purpose of the trip was the wedding of Chiara, Adriano's daughter, in Rieti, Italy.  Of course, Team Polenta viewed this as just another opportunity to test their legs.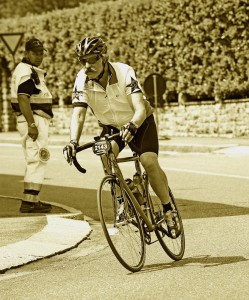 There was Ghisallo, Terminillo, Passo Pordoi, and Passo di Fedaia.  Between trips to the wineries and great restaurants, and visiting friends, Team Polenta got in a few days of riding in the hills around the towns of Alba and Barolo.  Bowing to strong pressure from their wives, the members of Team Polenta found time to  attend Chiara's wedding, which was held in Rieti's 12th century cathedral.
On Memorial Day (May 30, 2011), Team Polenta made an appearance at the renown Topanga Days Parade.  The members of Team Polenta were met with wild cheers of "Forza!" and "Vai!" from their many admiring tifosi.  In June, the members of Team Polenta rode the first Gran Fondo Colnago held in Beverly Hills, California.
September 2011 brought another cycling trip to the birth place of cycling, Italy.  As it was Il Capitano's 65th birthday, that meant the 48 "tornanti" (switchbacks) of Italy's highest pass, Passo dello Stelvio.  The Stelvio was followed a few days later by a ride up Mont Ventoux.
The next trip to Italy was June 2012.  Part of Team Polenta rode the 290km Gran Fondo Milano-San Remo, which contains three famous climbs:  the Passo del Turchino, la Cipressa, and il Poggio.   They then headed to Sardegna for some much next rest and a few long rides into the interior and along the coast of this beautiful island.
Other members of Team Polenta headed north to tackle some of Europe's most difficult climbs.  First was the Gran Fondo Saint-Vincent in the Valle d'Aosta.  Next was the Gran Fondo Giordana, which features Santa Christina, the Gavia and the Mortirolo, for a total of 4,500 meters of climbing!
Back home, Team Polenta braved the 110 degree heat at the Gran Fondo Giro d'Italia.  While Adriano and Jeff rode the 65 mile "medio" course, Gabriele spent much of the day riding the long course with Francesco Moser, a former winner of the Giro d'Italia and world champion!
So, what happened in 2013?  For the Ciclisti Famosi, it was the 2013 edition of the Giro d'Italia, and the rest of the UCI professional season, some of which took take place it Italy. This year also saw some members of Team Polenta riding the Gran Fondo Giro d'Italia in Pasadena.  Each of them posted a personal best for the ride. At the same time, il Capitano set a new record for non-doped 66 year old Jewish lawyers when he viciously attacked the 21 switchbacks of Alpe d'Huez.  This was followed by trips up la Thuile, la Cervinia and Pila, all of which are in the Valle d'Aosta.  Certainly, nothing beats the view at the top of the climb up la Cervinia–the Matterhorn!
Having had enough of the local rides, il Capitano went back to Italy to tackle a few more climbs.  Braving the heavy rain and 40 degree temperature, the first was the Gavia.  In celebration of his 67 th birthday, il Capitano quickly followed this with a climb up il Passo dello Stelvio on Stelvio Bike Day, the one day each year the climb is closed to all vehicular traffic. Rounding out 2013 was the Gran Fondo Giro d'Italia in Beverly Hills.  While Adriano and Jeff were struggling up the 18% grade on the short course, Gabriele smoked 'em on the timed climb, bagging a 10th place.
In June of 2014, Il Capitano took a short trip to Abruzzo in order to ride two famous climbs:  the Gran Sasso and Blockhaus.
October, and a belated 68th birthday celebration saw Il Capitano ride Passo dello Stelvio, Italy's highest pass, not once, but twice.  Well rested after a few days soaking in the same baths used by Leonardo di Vinci and the Romans at the Bagni Vecchi and Bagni Nuovi, the first trip up was from the Bormio side.  The next day was from Prato allo Stelvio and the dreaded 48 switchbacks.   A few days later, and after a long drive to the picturesque ski town of Cortina d'Ampezzo, Il Capitano rode Passo di Giau, a regular feature in the Giro d'Italia.
So, what happened in 2015?  Another trip to Italy, of course!  Aside from taking his fifth run up Passo dello Stelvio (second time from the Bormio side), il Capitano rode Passo Giau again, this time to meet his wife for lunch at the Berghotel Passo Giau .  But, this year there were two new climbs.  In Italy, it was Passo Falzarego, and crossing over the border into France, the famous Col du Galibier, a frequent feature of the Tour de France, and which is topped off to a memorial to the great Italian climber, Marco Pantani.
Il capitano turned 70 in 2016.  Only way to celebrate your 70th is, of course, to ride Passo dello Stelvio, Italy's highest pass, from the classic Prato dello Stelvio side.  This was followed by another great dinner at Restaurant Sissi in Merano, the site of the 65th post-Stelvio celebration.
Well, 2017 was a break from riding in Italy, although we did spend several days with friends in the Barolo area.  Instead, il Capitano spent did a two week ride from Oslo, Norway to North of the Arctic Circle.   Riding North of the Arctic Circle was a real treat–may not have been many white truffles or Barolo wine, but there was plenty of cod, the fish from which they make baccalà in Italy, one of il Capitano's favorite things to eat.  Of course, there is lots more to Norway than just dried fish, the fjords  are simply breathtaking, and you should not miss the magnificent Lofoten Islands.   Of course, any trip to Norway requires a stop for a real espresso at Cafè Frère in Trondheim, complete with a vintage Italian Colnago.
By the way, if you think of Norway as being as flat as a pannekaker, a Norwegian pancake, perhaps you should try to either ride up or down the Trollstigen, the Troll's Ladder.
Having spent enough time on paved roads, 2018 was the year to try the famous strade bianche, Italy's white gravel roads.  This desire led to the three day Eroica Montalcino.   Three days of vintage bikes, eating and drinking, and the 96 KM course through the Tuscan countryside, mostly on strade bianche.
Riding a vintage bike, which is required, is tough enough as they are heavy and the gearing is not up to today's standards, but trying to do that on unpaved gravel roads with inclines of up to 15% makes it even tougher.   Fortunately, the rules prohibited Il Capitano from trying to ride the 171 KM percorso as the sponsors figure, probably correctly, that cyclists over 70 years old have no business attempting a ride that arduous.
Assuming that the weather would be the same in the Dolomites as it was in sunny Los Angeles, Il Capitano took off to ride the Stelvio for his 72 birthday.  As he had done in the past, Il Capitano chose to ride on Stelvio Day, the day that the pass is closed to traffic and only bicycles are allowed.  Unfortunately, there was a little weather snafu and it snowed almost all day, making for a very cold, hard ride up, and an almost out of control descent.
The year 2019 began with a trip "Down under."  In January, Il Capitano and Mrs. Capitano (on an e-bike), did a 10-day pedal from Christchurch to Queenstown, New Zealand.   The trip was the "Southern Alps-Ten Days" trip sponsored by Auckland-based Pedal Tours.  The trip involved riding through acres of farmland and vineyards, along miles of magnificent coast line, up to Franz Joseph Glacier, next to roaring rivers and quickly-moving water falls, beside geysers and fjords, and up and over three tough passes–Porter's Pass, Arthur's Pass and Haast Pass.  The scenery was terrific, surpassed only by local wine and the hospitality of the Kiwis.
June 2019 saw the return of Team Polenta to Italy.  First, there was the Sellaronda Bike Day  Every year at this time, the road over the four passes (Passo Sella, Passo Gardena, Passo Pordoi and Passo di Campolongo) of the Dolomiti, a UNESCO World Heritage site, is reserved for cyclists only.  After the cold and rain of the Sellaronda, Team Polenta headed for Monte Grappa, known both as a Giro d'Italia stage, and the location of an historic World War I battleground.
Another year, another birthday (73rd!) for Il Capitano.  And, we all know what that means — another climb up the Stelvio.  Surprisingly, he was faster this year than he was on his 72nd, but it snowed that year.
The annual birthday ride was challenging in 2020.  Plan A, was a run up Mt. Etna in Sicily on a traditional Giro route, and then a guided mount bike trip with Etna Bike Tours.  Of course, COVID-19 prevented this.  Then, there was Plan B–a ride from San Francisco to Los Angeles.  That went by the wayside because the fires in Monterey, Santa Cruz and Big Sur made that impossible.  So, on to Plan C–Los Angeles to Ojai.  (Of course, dinner at the Ranch House.)   Then a drive to Ragged Point with a stay and dinner at the Ragged Point Inn and Resort.  This was followed by successive days riding to Cambria, Santa Maria (dinner at the famous Hitching Post), Santa Barbara, and finally home.  A total of 371.5 miles (598 km).  Not bad for a 74 year old!
With the COVID-19 pandemic tapering a bit, it was time for another trip to Italy for Il Capitano and Susan.  And, what else does an Italian wannabe do for their 75th but ride the Passo dello Stelvio:  48 switchbacks, average gradient of 7.4%, a maximum gradient of 11%, 24.3 km in length, starting elevation of 950 meters, ending elevation of 2,758 meters, and an elevation gain of 1,808 meters.  Certainly easier ways to spend your birthday, especially your 75th, but gets much better when your friends at Enoteca Guanella in Bormio make you a special birthday cake, and you spend the next day soaking at the Terme Bagni Nuovi.
2022, while not Covid-free, enabled Il Capitano to do the usual local rides.  For his 76th, Il Capitano did a 100 mile ride to Santa Barbara, where he met Susan for an evening at the 150-year old Upham Hotel and dinner at a local restaurant.  While 100 miles does not sound like much, it does when the temperature varies between 99 F and 103 F (37 C to 39.5 C).
Even though the annual birthday ride was not in Italy, two weeks later Il Capitano spent a week riding a gravel bike on the strade bianche of Tuscany.  Some of the "roads" are the same as used in the famous Strade Bianche race, while others are the ones used in the Eroica Gran Fondo, which Il Capitano had ridden several years before.  A little dusty, but a lot of fun.
May 2023 saw a quick trip to the area between Asti and Alessandria.  The Ca' San Sebastiano Wine Resort and Spa turned out to be a centrally-located spot to explore the rice fields and small towns on a road bike.  Not challenging, but a great way to spend some time.  Then, Il Capitano was off to visit Des Martin, a restored village featuring a Castelmagno d' Alpeggio cheese factory, an agriturismo, and a restaurant.  A beautiful, very hard to reach location located in the mountains of the Piemonte.
If you can't make it to Italy, France, New Zealand, or Norway, and live in Los Angeles, the home of Team Polenta, it is the usual ride in the Malibu Mountains up Encinal Canyon.